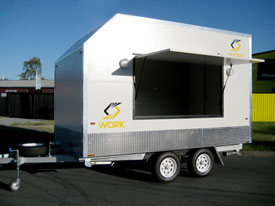 Work Caravans Australia constructs your new food van using the highest quality components and materials combined with the latest food van assembly techniques to produce a highly developed food van. We fabricate to the most rigid specifications for durability and quality, and take pride in sourcing our food van construction materials from other Australian companies. The result is a vastly superior food van that not only meets but exceeds our stringent quality control systems.
Work Caravans Australia's food van range provides a cost-effective solution for your food vans, mobile coffee vans, ice cream vans or mobile food van requirements. You can select from a wide range of sizes and designs to suit any budget.
Work Caravans Australia's Food Vans are an ideal and affordable option for;
Markets
Festivals
Concerts
Carnivals
Shows
Nightclubs
Choose the food van floor plan that suits your requirements from our: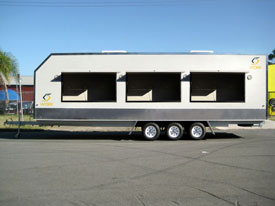 Your new food van will be manufactured to your fit-out requirements. All electrical outlets will be installed as per your fit-out needs, if optioned; gas points will also be fitted. Once you have taken delivery of your new food van all that is required is for benches, fridges, cookers etc to be installed.
Work Caravan has established a strong reputation for quality, service, great pricing and on time delivery. Our dedicated food van sales team will meet the expectations of new and repeat customers with a personalised approach and 100% commitment to your business.
Whatever your requirements, Work Caravan Australia can supply your food van solution.
Download our Food Van Brochure which includes features and pricing;