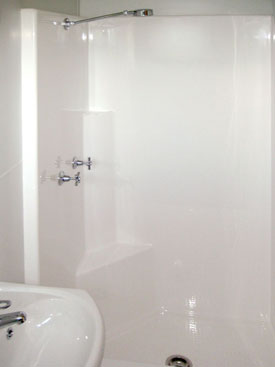 Caravans Australia ablution range of caravans are built tough with details to cleaning and maintenance being the centre of attention. Designed in an easily transportable package they are the solution to suit your shower, toilet and laundry requirements. Whether you are in Mining supplies, Exploration, Caravan Park or Entertainment industry you will find the ablution caravan to suit your needs.
Caravans Australia's construction provides a cost-effective solution for any short-term or permanent site requirements. We have shower, toilet and laundry caravans for sale in a wide range of sizes and designs to suit any budget.
Caravans Australia Ablution range suit a diverse array of situations, including;

Mine sites
Mining supplies
Drill sites
Exploration
Mobile camps
Caravan Park Accommodation
Emergency Accommodation
Entertainment Festivals
Choose the floor plan that suits your requirements from our:
When you deal with Caravans Australia you are buying factory direct from the caravan sales team that go all out to establish repeat customers.
Contact the Caravan Australia sales team today.
Download our Ablutions Brochure which includes features and pricing;