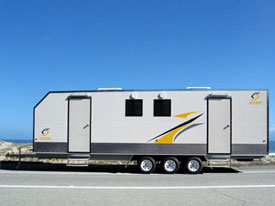 Work Caravans Australia is a privately owned company who has established a strong reputation for quality, service, great pricing and on time delivery. Work Caravans Australia dedicated team will meet the expectations of new and repeat customers with a personalised approach and 100% commitment to your business. Whatever your caravan requirements, Work Caravans Australia can supply the solution.
Work Caravans supply a comprehensive range of industrial strength caravans. Through innovative design, using the latest caravan manufacturing technology combined with the highest quality components and materials. The result is a caravan that is extremely durable and comfortable with a highly efficient use of space. Our industrial strength caravans are purpose built for the extreme environments encountered in Australia.
Work Caravans have a diverse usability including;

Accommodation caravans
Mine site accommodation
Remote work site accommodation
Emergency housing
Caravan park accommodation
Permanent on-site accommodation
Mobile classrooms
Mobile kitchens
Shower/Toilet combinations
Site Storage
Site Offices
Food Vans
Work Caravans is dedicated to supplying caravans of the highest quality. We pride ourselves on providing service that exceeds our customers' expectations every day. We consistently endeavour to improve our performance by working closely with our clients and understanding your unique requirements.
Work Caravans accommodation and office series enable relocation of your work site buildings at just a fraction of the cost of traditional portable structures.
Choose from Work Caravans Australia extensive caravan floor plans or meet with one of our friendly salespeople to assist with your individual caravan needs.
Buy factory direct from Work Caravans Australia.