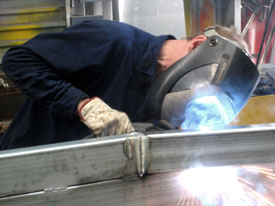 Work Caravans have a broad range of industrial strength caravans 4 sale, Australian made purpose built for the extreme environments encountered in our country.
Revolutionary caravan assembly techniques used by Work Caravans have produced environmentally efficient caravans 4 sale with the use of joint lock Bluescope Steel Colorbond™ insulated panel, providing greater strength and performance. Our easy care caravan designs means that cleaning and maintenance are kept to a minimum while providing a variety of caravans effective for your working/living environment.
Using the latest caravan manufacturing technology and inventive design Work Caravans Australia have engineered caravans 4 sale that have a diverse usability including;
Caravan park cabin accommodation
School classrooms
Dental caravans
Site offices
Mobile site accommodation
Site facilities
Storage Caravans
Retail stores
Food vans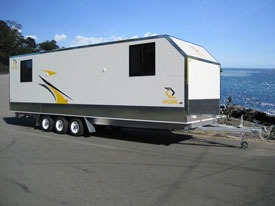 Choose from Work Caravans Australia extensive floor plans, select from our list of caravans 4 sale or meet with one of our friendly salespeople to help with your individual needs.
Our dedicated team will meet the expectations of new and repeat customers with a personalised approach and 100% commitment to your business. Whatever your requirements, Work Caravans have a selection of caravans 4 sale to suit your requirements.
Work Caravans is a privately owned Australian company who have established a strong reputation for quality, service, great pricing and on time delivery.