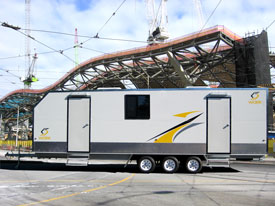 Work Caravans huge selection of Site Offices are designed & engineered to cope with the most challenging and remote of work site office environments. Our Site Office range will provide a comfortable working atmosphere with an emphasis on ease of maintenance and cleaning. Our Site Office range comes in a wide variety of floor plan layouts. From a single site office room arrangement, to site office and kitchen, site office and bathroom facilities through to a complete site office with living arrangements, our caravans provide ample space for whatever setup you require.
Work Caravans Australia's construction provides a cost-effective solution for your portable Site Office needs. You can select from a wide range of sizes and designs to suit any budget.
Our portable Site Offices can be utilised in diverse situations:
Construction Site
Mining Sites
Remote Camps
Drill Exploration
School Reconstructions
Choose the floor plan that suits your requirements from our: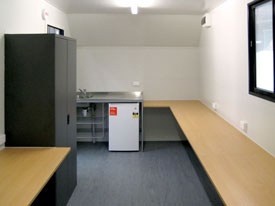 You're sure to find the portable Site Office solution for your workforce.
Contact Work Caravans sales team to assist you today.
Download our Site Office Brochure which includes features and pricing;